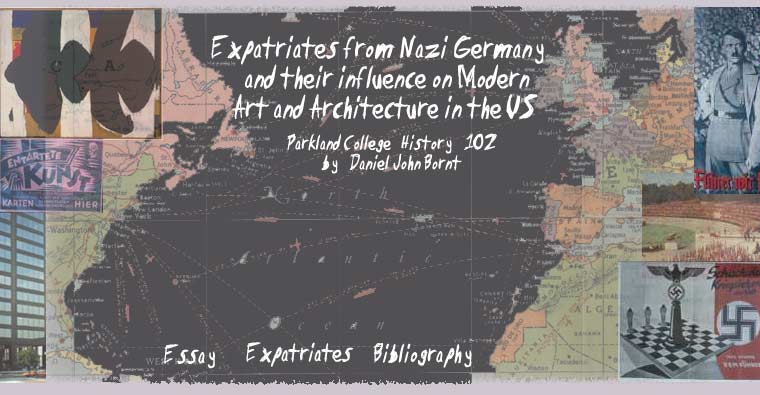 Miës van der Rohe & Roberto Matta
The rise of the National Socialists (Nazis) in Germany in the early 1930s led to an exodus of the country's
most talented architects and artists fleeing Hitler's repression and racism. Many of these exiles eventually
found their way to America's shores. In the accompanying essay we explore their extent of their influence
on the movement within the arts toward 20th-century modernism in the US, focusing especially on
architect Miës van der Rohe and artist Roberto Matta.
"Expatriates from Nazi Fascism and their Influence on Modern Art and Architecture in the US"
website project for Parkland College HIstory 102 course ©2004 by Daniel John Bornt
History 102-940 fall semester 2004 - Dr. Marsh Jones, Instructor
"Expatriates" composite graphic this page ©2004 by Daniel John Bornt
(Upper left corner) Elegy to the Spanish Republic #34, 1953-54, Robert Motherwell American, 1915-1991
(middle left) Nazi poster announcing exhibition of "degenerate" art
German Nazi images courtesy of German Propaganda Archive, Calvin College www.calvin.edu
WWII vintage map personal collection of DJB