Modern Era / Rosenquist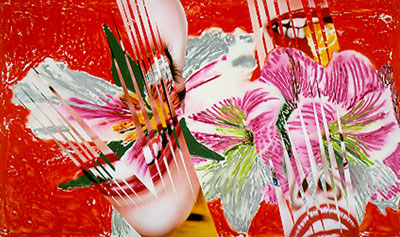 Shriek
1986
Monoprint/lithograph
42 1/8" x 71 1/2"
Edition 29
Aripeka Jim
Copyright Times Publishing Co. Jun 4, 2000

Fish camp at Aripeka, FL - photo by DJB
It's not New York and that's the point. Renowned pop artist James Rosenquist gets down to the business of making art in Aripeka (FL), the gulf coast hamlet he calls home.
Years ago, when James Rosenquist still had a hot tub on the roof of his Manhattan studio, he liked to slip below the surface and close his eyes.
From the top of the five-story building, shadowed by the World Trade Center, he could imagine himself submerged in another hot tub he keeps 1,100 miles to the south, in a tiny Florida fishing village overlooking the Gulf of Mexico.
There beneath the palm trees, far from the rush and glare of the New York art scene, is the place he calls home, the place he goes to paint.
For Rosenquist, 66, a pioneer of the pop art movement, the hot tub mind game is all about shifting perceptions and playing with point of view. Both concepts are central to his work and speak directly to his belief that no two people see the world in quite the same way.
But it also illustrates his affection for the simple existence he has found in this small hamlet a little more than an hour north of Tampa.
In Aripeka, Rosenquist has created a secluded haven that offers him the freedom to work and the tranquility to relax.
With its easy pace and rustic character, the sleepy gulf town mirrors the unadorned environs of his North Dakota childhood, and aside from occasional business trips, it is where he spends most of his time.
"I think people are surprised that ideas come out of Aripeka, Florida," he says, with traces of a midwestern accent. "They think maybe it comes out of a hip, sophisticated, lower Manhattan blah blah blah. Well, I'm down here but I'm in touch with a lot of places. Paris, New York, Italy, Germany. It's just easy to produce things here."
In Aripeka, no one bothers him and he can concentrate.
"I like it because I don't really have any interference," he says. "Everything else puts a hyphen in your work."
Because of his stature in the international art community, Rosenquist's work frequently catapults him out of his placid existence into the world of blah blah blah. In May, he dined with trustees of the Whitney Museum in New York and appeared in a film produced by Deutschebank, discussing a piece he created for the Guggenheim in Berlin. An exhibit featuring his work and a selection of paintings by Salvador Dali is running through September at the Dali Museum in St. Petersburg.
At a White House reception on Friday, First Lady Hillary Rodham Clinton thanked Rosenquist for donating a lithograph to a program promoting art in American embassies.
Rosenquist's wife, freelance writer Mimi Thompson, 44, and the couple's 10-year-old daughter, Lily, live in Westchester County in New York, where Lily goes to school. Rosenquist makes frequent trips to see them, and to do business.
But you get the sense that, left to his own devices, he would be just as happy to stay home.
"In New York, it's all work," he said, pushing his wire-framed glasses to the top of his head and rubbing his eyes. "Living is work. Here you can work like hell and then stop and jump in the water or have a dinner party or something . . . I just spin around up there and then I'm dying to get back here and get to work."
Nestled off the jumble of U.S. 19, Aripeka straddles the border of Hernando and Pasco counties. Quiet and rustic, it is the kind of place where people leave bicycles propped against the boats trailered in their front yards. The population, normally around 1,000, swells in the wintertime, when the mobile home parks fill with snowbirds.
Rosenquist's property lies at the end of a winding dirt road shrouded by palm trees. A wood-frame house rests on stilts near the driveway, facing the gulf.
Hobbled by bad knees punished from jogging, Rosenquist holds tight to the railing as he climbs the stairs leading to the kitchen. Inside, he offers visitors a choice of a dozen chairs scattered throughout the cluttered living and dining rooms.
Sketches and proofs of his works line the walls, held crookedly in place by thumbtacks. On the kitchen table is a selection of fresh vegetables, purchased earlier in the day at a local produce market. In the distance, beyond four sets of sliding glass doors, the water shimmers in the sunlight.
"People come out here and they can't sleep because it's too quiet," he says.
Inside his cavernous studio, between sips from a frozen mug of Beck's beer, he attacks his latest painting, A Stowaway Peers Out at the Speed of Light. Pacing in front of the mammoth new piece, which measures 17 feet tall and 46 feet across, he breathlessly explains what drives him.
"All I know is I get cranky if I don't do something," he says. "I don't feel alive. I don't feel like anything."
Standing back from the painting, Rosenquist is clearly pleased with his effort.
"Not too slouchy," he pronounces.
The piece, filled with swirling bursts of reds, blues, pinks and grays, hangs from a block-and-tackle assembly rigged to the ceiling. Carefully reproduced to scale from a smaller sketch, the work sways gently on a breeze coming in from the gulf.
Assembled by Rosenquist's two assistants, it is made up of a patchwork of smaller canvases, fastened in back. Rosenquist uses a motorized lift to reach the top, and over the course of the project, will have his assistants put the piece together and take it apart a dozen times.
He can do this sort of project mostly because of the sheer size of the studio, which resembles nothing so much as a giant airplane hangar filled with art supplies. Besides his current work, it holds several unshown pieces dating back to the 1950s, as well as a handful of antique cars.
"Because I have this, I've been asked to do big jobs," he says, with a wave of his arm. "If I didn't, I couldn't."
In the end, what's most important to Rosenquist is the light. Situated as it is, just yards from the water, the studio provides optimum conditions for painting. It is outfitted with 90 skylights but not one electric bulb. He stops painting every day when the sun goes down.
"When you're near the water, the water does reflect and it shoots it under the bushes," he says. "Underneath all these trees it's much more luminous."
When you first meet him, it's not immediately obvious that Rosenquist is who he is.
A throwback in many ways to the 1960s, he still uses words like, "aura" and starts sentences with, "Dig this."
A contemporary of Andy Warhol, he tells stories about arm wrestling and Jasper Johns, or about dinner with Michael Douglas and Catherine Zeta-Jones, punctuating the tales with shouts of, "Hilarious!"
Seconds later, he launches headlong into the seemingly unrelated philosophical questions that trouble him.
"If the government decides to nuke a billion Chinese, if you're religious, where do the souls go? If you're not, where does the energy go? Einstein says the energy has to go somewhere."
This sort of talk has earned Rosenquist a reputation for eccentricity. Kevin Hemstreet, a Brooksville native who has worked stretching canvases for Rosenquist for 10 years, often looks at his boss sideways.
"He's a true artiste," Hemstreet says, shaking his head. "A mad scientist."
Rosenquist got his start as an artist when he was 13 or 14, after his parents moved to Minneapolis. With a picture he drew of a sunset, he won four Saturdays' worth of instruction at the Minneapolis Art Institute. "They gave me a good pencil, good paper and an eraser," he recalls.
With that he was on his way to a career that eventually took him to the heart of the New York art scene, with stops on the way painting Phillips 66 emblems on oil tanks in the Midwest and, later, billboards in Times Square.
Considered one of the most important living American artists, Rosenquist turns few heads when he ventures into Aripeka, dressed most times in paint-splattered jeans or faded swim trunks.
Opening the door to Norfleet Fish Camp, the town's lone general store, he shouts a deep "Hello" to owner Carl Norfleet.
"If you don't see it in the store, you don't need it," Rosenquist announces over his shoulder.
Turning to Norfleet, he bows his head and, in his best Groucho Marx, says, "Carl is the mayor of Aripeka. I'm the vice mayor - with a lot of vices."
He waits a beat, then savors a chuckle from Norfleet.
Norfleet says he can't remember exactly when his most famous customer started coming in to buy beer, just that Rosenquist has been a regular for years.
"Aripeka has a pretty good sense of community, and he's part of it," Norfleet said. "It was so innocuous. Nobody put a mark on the wall or a calendar or anything."
Norfleet and his wife, Mary Ann, like a host of other town folk, have been to Rosenquist's home for parties. Few seem particularly impressed with his background.
"You get all those superlatives when people talk about him, but I've been fishing with him so I know better," Norfleet says, grinning. "I knew him a long time before I knew him, before I knew he was some artist."
Slowly, without fanfare, Rosenquist has become part of the fabric of the community, populated mostly by natives.
On a drive through town in one of two Mercedes he keeps, he plays tour guide.
"They did a census here 10 years ago," he says. "There were 250 dwellings and only 150 people. I can name them one by one."
Behind the wheel, he makes good on the promise, ticking off a list of locals by name and, as often, by nickname.
"There's Aripeka Dave. And this guy died," he says, slowing down to point at a house near the road. "Don lives around the bend."
For almost every person Rosenquist mentions, there is a story.
Marge Pras, the local postmaster, is one of his favorites. She serves as a protector by keeping his address from the curious fans who descend on Aripeka looking for what one called "the art factory."
"I love her. She keeps everybody away. Her husband repairs motorcycles."
Running the business side of his work takes up a good deal of Rosenquist's time.
At the moment, he is occupied with a host of projects. A 200- to 300-piece retrospective is scheduled to open at the Guggenheim in New York in 2002, and a new painting, Declaration of the Rights of Man, is bound for Paris, where it will be installed at the Palais de Chaillot. Meanwhile, Rosenquist is finishing the design work on a piece that will hang outside All Children's Hospital in St. Petersburg.
He spends hours inside a small office next to his studio, opening mail and juggling phone calls from his accountant, lawyer and art dealer, a group he refers to collectively as "wild horses."
For Rosenquist, the Guggenheim retrospective is a tremendous undertaking, requiring him to strike deals to secure the loans of his most famous works, now scattered in public and private collections across the globe.
The process is time-consuming and delicate, forcing him to cajole a laundry list of collectors into donating the pieces for a three- year period.
But nearly every afternoon around 3, he takes time out for a candy- bearing 10-year-old boy on a mountain bike. In Rosenquist and his staff, Craig Brice has tapped a fundraising goldmine for the West Hernando Christian School.
Meeting the boy outside, Rosenquist peers into the nearly empty cardboard box he carries.
"Whaddya got? Butterfinger? I'd like to buy two of 'em. Two of 'em. They're a dollar? Sold."
Unwrapping one, Rosenquist follows Craig toward the studio, where his two assistants are pulling out their wallets.
"One time we bought the whole box."
Rosenquist goes out on the water to escape both worlds he inhabits. There, he is out of reach both from his business handlers and the unfinished work that grips him.
Turning the key to his 23-foot Penn Yann pleasure boat, the engine hums to life and he is closer to freedom. He unties the dock ropes, then pulls himself up on deck to hoist anchor. As he drags the weight from the water, the boat spins counterclockwise, carried backward toward the gulf by the canal's gentle current.
"Out on the water, you leave all your problems on shore," he says, holding the wheel steady. "There are no problems out here. You can get away from it all out here, out of contact with reality."
Through the channel, Rosenquist steers the boat south and eases it in, next to the bulkhead at Norfleet's launch. After mooring to a cement block near the boat ramp, he hops ashore and trots inside for a six-pack.
Minutes later, he is back on the boat, steering toward open water and a swim.
"This ain't fancy, like Miami," he says, grinning. "But I like it."

---
(Photo captions:)
James Rosenquist steps lively at his Aripeka studio, framed by Through the Eye of the Needle to the Anvil (1988), a massive oil on canvas.
Aripeka bustles with energy, if not people. Rosenquist recalls a census count of about 150 people. "I can name them one by one." The artist is clearly at home here, where a cat keeps watch at the Norfleet Fish Camp.
At work on his latest painting, A Stowaway Peers Out at the Speed of Light, Rosenquist blends his colors, searching out oranges and reds. The work's size staggers: 17 feet tall and 46 feet wide.
Work and home come together at the end of a dirt road. Rosenquist's wood-frame stilt home is just a few yards from the Gulf of Mexico. His studio, fitted with 90 skylights, captures the necessary ambient light. At dusk, work is done.
Rosenquist is just one of the locals at Aripeka's lone general store, Norfleet Fish Camp, run by Carl Norfleet. Today's purchase: a six-pack and a jug of bleach.
[Illustration]
Caption: James Rosenquist at his Aripeka studio, framed by Through the Eye of the Needle to the Anvil (1988), a massive oil on canvas.; A cat at the Norfleet Fish Camp in Aripeka; James Rosenquist; The Serenade for the Doll after Claude Debussy, Gift Wrapped; Doll #8, 1992.; Pink Condition, 1996; Passion Flowers, 1990.; Rosenquist at work on A Stowaway Peers Out at the Speed of Light.; Rosenquist's wood-frame stilt home; Rosenquist at Aripeka's lone general store, Norfleet Fish Camp, run by Carl; Norfleet; Map locating Aripeka, Florida.; Photo: COLOR PHOTO, DOUGLAS R. CLIFFORD, (9); COLOR MAP
Reproduced with permission of the copyright owner. Further reproduction or distribution is prohibited without permission.
People: Rosenquist, James, Hemstreet, Kevin, Norfleet, Carl
Dateline: ARIPEKA
Section: FLORIDIAN (St. Petersburg Times)
Text Word Count 2464