Timeline I
...covering Late Gothic Proto-Renaissance, Early Northern Renaissance, and Early Italian Renaissance periods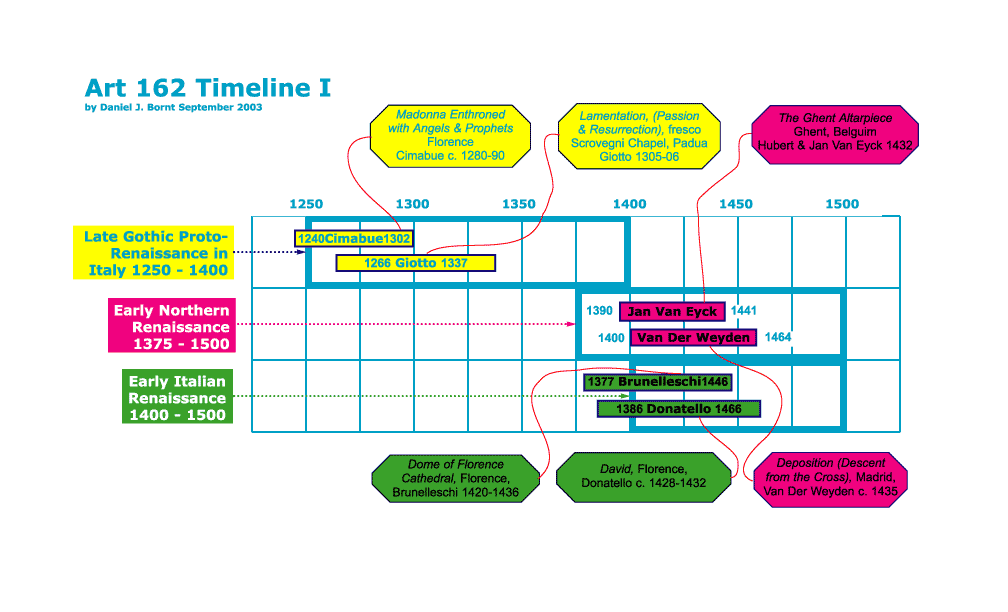 ART HISTORY II / SElF / TIMELINE

DUE DATE: WEDNESDAY, September 17


Devise a linear timeline, that runs from the Precursors to the Renaissance to the
Early Italian Renaissance periods. Designate the time frame for the art historical
eras covered in class:


Late Gothic/Proto Renaissance Art In Italy

Early Northern Renaissance

Early Italian Renaissance


Place each period listed above on the timeline reflecting the dates of each period. Then for each period select two artists you feel reflect the ideas of their respective era. (There should be a total of six artists represented on the timeline.) Place the artist's dates on the timeline showing their life span. Then select a work by each artist and place the work on the timeline at the time of its creation. (There will be 6 dates shown for the works of art created by the artists you selected.) In this way these major artists and their works are visually linked. As a reference look at the timelines in your text book that can be found at the front of the chapters we have studied.